Okay, Culture aside, people eat A. Lot. of. Shit!
You'd think living on  a "shithole" island full of people-eating savages I'd be able to understand why someone would want to eat the cow straight off the pasture right?! Nope I don't.
I am still judging your eccentric diet choices and making that 'ewww' face whenever I see the runny yolk oozing out of a poached egg (I'm making that face right now just thinking about it).
I had the privilege once to experience a renowned Las Vegas Buffet. It was basically a smorgasbord of all the foods I'd seen on Food Network that I'd thought to myself "hmm, I'd like to try that some time."
I tried steak, in all it's bloody glory – yes that was the first time I had steak-, prawns -pretty sure I ate them raw because they were still grey when I had them-. I decided to try every single thing on the buffet. I definitely got side-eyed a few times when persons passed my table.
Unfortunately my palate or taste buds weren't developed enough to appreciate the nuanced flavors of rawness and platelets.
It was a yuck-fest! The only thing I actually ate was pasta mixed with red sauce (I don't remember what they called it) and white sauce (think it was some kind of cheese thing) which was FANTASTIC.
Of course this boils down to personal preference, but here are some of the 'yuck worthy' foods us islanders (me) want to know 'why tf are you eating that.'
Caviar
Why are we even eating fish eggs? I had caviar once and it. Was. Horrible. Yuck!
Live Octopus
Really!? I cannot imagine attempting to eat a big headed mop with spirally, spastic tentacles  sliding  suctioning down my esophagus or trachea trying to save its life by taking mine.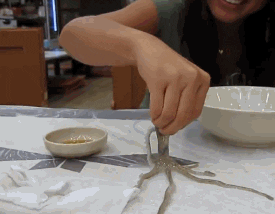 Eggs
I love eggs, but sunny-side up? Poached? Raw? Hell nawww!
Meat
The only degree of meat doneness I eat is Over Cooked! Okay, no not really but, If it is  still neighing, mooing, bahhing, clucking, oinking or moving while it's on my plate I am not eating it.
Sushi
Um no.
We recently concluded our annual restaurant week and it was bomb! In a nutshell restaurants across the island had to prepare a menu using an ingredient, this year it was plantain. This fact is what inspired this post.
There are so many other things but I want to hear from you.
Tell me some of the foods you've had that you thought were gross or some of the things you think are too gross to even try in the comments below. So looking forward to what you have to say. 
Loved this post? Share the love! 
Chill with me here ——->Twitter||Insta||Pinterest